Luxury Custom Pools and Spas
Central Florida's Choice For Luxury Pool Designs
Your backyard should be a place of relaxation and peace. A custom luxury pool and spa is the perfect addition to a resort-style backyard. Atlas Pools of Central Florida designs and builds luxury custom pools and spas in Orlando, FL and the surrounding areas. A luxury pool brings your dreams of specifications and high-end materials to life. We'll include feature options that make your swimming pool an oasis. Since 1978, our company has helped thousands of people design and construct luxury custom pools. From pre-planning and custom tile work to water features and lighting, we do it all. Contact Atlas Pools today to schedule your estimate.
Wide Range of Custom Luxury Pool Options
At Atlas Pools, luxury pool designs start with your dream of the perfect pool. We'll bring this dream to life with unique features like negative edges, fire pits, custom rockwork, deck jets, waterfalls, rain arcs, LED lighting, and more. You can control special features through automation systems to boost luxury to another level. Your custom luxury pool is designed with our top-of-the-line aquatic features with 3D CAD design technology. You can choose between hundreds of tile samples, helping you reach your dreams of a backyard oasis.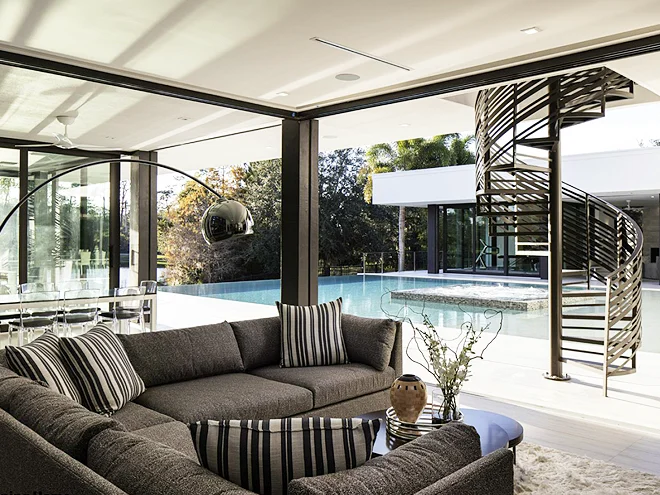 Benefits Of Adding Luxury Pool Additions
Luxury pool additions like water features add value and beauty to your swimming pool and spa. A cascading waterfall or pedestal fountain makes your swimming pool seem more like a resort than your backyard pool. Besides being aesthetically pleasing, luxury additional often adds a lovely audio backdrop.
Luxury Pool Deck Options
One of the things that makes a pool luxurious is the addition of sophisticated pool decking options, including:
Travertine – Travertine is porous and cool to the touch, making it a perfect selection to absorb water. The elegant look is offered in various shades.
Flagstone – Offered in natural earth-toned textures, flagstone is slip and heat resistant. It's perfect for a rustic, gorgeous look.
Marble – Marble gives your decking a three-dimensional look. It reflects the water with a classy, sleek build.
Limestone – Limestone is earthy and durable. Its vibrant colors never fade in the sun, and it provides a silky textured look.
Architecture Of Luxury Water Features
Architecture plays a significant role in luxury water features for your backyard pool and spa. Adding multi-colored hydrostreams, swim-up bars, and waterfalls are just the beginning of options for your luxury water features. Our unbeatable selection of aquatic features brings your luxury pool designs to the next level. We offer Intelli-brite landscape lighting, therapy jets, fire bowls, and more. We understand the smallest details make a big difference.
Why Choose Atlas Pools For A Luxury Pool?
We are proud to be the largest pool service and repair company in Central Florida. We want to help bring your dreams of a luxury pool to life. From the beginning design to installation, we're here for you every step of the way. You should step into your backyard into an oasis of luxury and beauty. We'll help you bring your dreams of a luxury pool to life. Contact us today for a personalized estimate.